So it is finally the worst time of the year; the end of summer which means you have to start thinking about school. If you are heading off to college or university your shopping list probably consists of more than just school supplies. Most schools are great for sending out lists of things you may need for your dorm room but they do not cover everything. Being a guy, it is probably one of the last things on your mind right now, I mean who really wants to spend a summer day walking around shopping with your mom buying extra socks.  So, for your benefit I've put together some tips, tricks, and suggestions for the things you may have forgotten.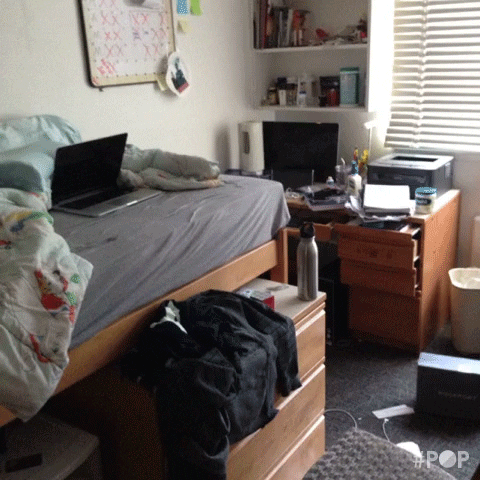 Where the "Magic" Happens…
Your bed is the most important feature of your dorm room. You want to make it the most comfortable and appealing especially when you have guests over. Depending on the condition of your dorm mattress it is probably best to buy a mattress protector because God knows how many bodies have been on this mattress. Another great option is a memory foam mattress topper. You can buy most at any department store like Walmart or Target for a good price. They can instantly turn your bed into a cloud and you will never want to leave.  Add in some fluffy pillows and the must-have body pillow and your kingdom is now complete.
Now, picking the right bedding can be painful with all the different styles, colours and patterns available. My best advice is try to pick neutral colours (grey, beige, tan, gold, black, taupe) for your bedding and darker colours (navy blue, black, grey) or patterns (stripes or plaid) for your duvet cover so that any stains or dropped food can go unnoticed till you are able to get a load of laundry done… which I hope would be ASAP! Don't have time to go shopping or you forgot to grab extra sheets? No problem, head over to Dormify, they have an extensive selection of bedding options and receive free shipping on $50 purchases plus an extra $20 off if you tell a friend. Check out the site for other great storage and living options.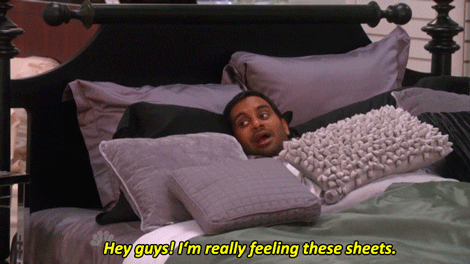 If you are living off campus in your own apartment check out our article on how to make the most of a small space.
Bathroom Basics
A shower caddy is one of the greatest inventions if you have to walk down the hall to your res bathroom. It can hold all your bathing essentials. Picking up Command products are another good idea. Hooks to hang your towels, wet clothing or even a jacket can be very useful.
Laundry detergent and dryer sheets. Add that to the list. Make that two of each.
Storage
What are two of the most precious things a guy owns? His shoes and his hats. Now, if your dorm room is on the older side I highly doubt you're going to want to stuff them all into some smelly drawer right? You need to invest in an over the door hat rack where you can proudly display all your most favourite hats. If you're already at school and forgot to grab this, you can order one off Amazon for $10. For your shoes, pick up long, flat, clear containers that can fit multiple pairs. This type of container can easily be stored under your bed or at the bottom of your closet. This will also help eliminate the smell from your gym shoes.
School Supplies
As much as you don't want to think about the school aspect of going to university or college picking up a desk organizer for your school supplies and extra shelving for your books and binders will make studying that much easier when you have everything you need. If you have your own printer in your room remember to grab extra ink cartridges because depending on the amount of assignments you'll be printing off, you'll definitely need that extra pack fast.
Buying majority of your school supplies before heading to campus is the best idea for saving money. Most supply stores have great deals whereas your local campus bookstore can sell school supplies for a real pretty penny.
Staying organized is the key to a successful academic year. Purchasing a school calendar with washable markers that you can write out all your school assignments and social events on will help ensure a much less stressful year.
Décor and Accessories
First things first, make your room yours! Posters of your favourite bands, movies, actors, athletes, and sports teams will help turn those brick, cement jail cell walls into a colourful escape after a long day of class. Even flags or tapestries can help make a space more comfortable. Check out Society19 for some great ideas on masculine tapestries to bring off to school with you. Available on Amazon so again, you don't need to even leave your room. Fun things like over the door basketball hoops and magnetic dart boards are good options if there are no outlets for a T.V.
Another great buy are blackout shades for your windows. Any college student loves to take naps but it's kind of hard to do on a sunny day and most dorm rooms don't come with the greatest quality curtains. For $10 at Walmart Blackout Shades are easy to install and turn your room into the cave you need for a mid-day nap.
Want something no one else has? Well, stay tuned and check out our website Chase & Hunter as we are close to launching our version of Canvas Art! Our unique take on this trend will help create a positive environment for your living space. With lots of cool designs and slogans, you're going to want to have this hanging up in your dorm room. Here's a sneak peek:
Lastly, make sure you pick up an air freshener, Chase & Hunter candles, and a bottle of Febreze. If you've got a last-minute study group coming over or a late-night guest and you haven't done your laundry in while any of these options will do the trick. Trust me you'll thank me later for it.
Appliances
Picking up a coffee maker or a blender can be great for those early morning grinds or late-night study sessions. A mini-fridge would also be a valuable option to store drinks and snacks when you're too lazy to go get food on campus.
Dorm rooms can already feel cold and dark. Think about grabbing a floor lamp or a desk lamp, depending on the size of your space. Make sure to also grab extra bulbs!
If there's the correct outlets for a T.V well then pack up whatever gaming console you have and get ready to host all your neighbours for some intense gaming nights. Remember to look into what cords you will need to set everything up so you're not trying to find the right cord when the game is on. Don't forget to bring a portable speaker and headphones; perfect for social events or long walks to class.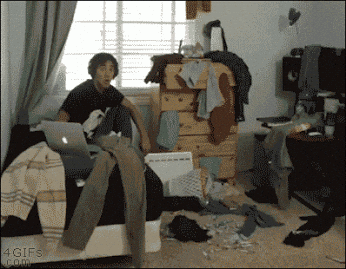 Good luck to everyone heading off to university or college! Enjoy your time, it'll fly by faster than you think.